SOUTH JERSEY GUPPY GROUP
GUPPY ARCHIVES
---
HOW TO GET STARTED WITH GUPPIES
by Raj Seshagiri, South Jersey Guppy Group
My First Steps with IFGA Guppies
I want to re-count my early experience with IFGA guppies here to show one can have a very small set up and still show & breed guppies successfully
It all started early 2007, I had kept guppies when I was young boy, One day I was recollecting those experiences with my daughters in a hope that they will get encouraged to have a gold fish or beta fish, never knew that it would re-ignite my old love for guppies…started searching on internet and there I found about "South Jersey Guppy Group(SJGG)" then attended one of the monthly meetings.
Came back home with a trio of blue guppies and couple of catfish, had a 5 gallon tank setup a week before, never knew anything about many of the guppy terminologies at that time, was a complete newbie. Just dropped the trio and cat fish, fed them regular flake off, no brine shrimp nothing, further monthly meetings and discussions with SJGG members would help me understand more about guppies, foods they need and how to breed them to full potential.
With the new acquired knowledge, I collected my first set of babies from blues, this resulted in me buying more tanks, I was about 5 tanks now 3 10 gallon and 2 five gallons, they were in different rooms with individual heaters and box filters, but red guppies were the ones which really got be hooked, I was very impressed with red guppies which other known SJGG group breeders were showing in monthly bowl show and had casually mentioned this to one of them, but this wonderful gentleman got me 2 full red pregnant females(one of them was albino) and asked me to keep them separate and feed them well with baby brine shrimp, flakes,dry food etc, this is when I started reading more about guppies from every source I good get my hand on, online, books, talking with breeders, calling them at odd times, emailing them.
The 2 full red females had fry and I was amazed when they started coloring up, seeing all in wonder, now I was soon replacing my blues with full reds and my tanks increased, at this time I was having 4 10G, 2 5G and 2 21/2 G, at this time Dave Polunas also gave me a trio of his full reds free, Armed with this and the wealth of new knowledge I had acquired by talking to all the wonderful breeders at SJGG, I started line breeding the full reds I had raised from the 2 initial females and crossed them to Dave Polunas Fullreds as well, this gave fish with more size, vigor and color.
So with just 8 tanks, I was able to breed one color strain very successfully for 3 years and I place d 3rd over all in SJGG bowl show
All I did during this period meticulously was water changes, feeding proper diet and separating males and females around 4 weeks of age. I was feeding BBS, flakes; freeze dried brine shrimp, the temperatures in the tank ranged from 74 to 78 degrees, had sponge and box filters
Below are pictures of some of my full reds, which I raised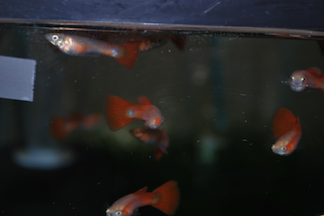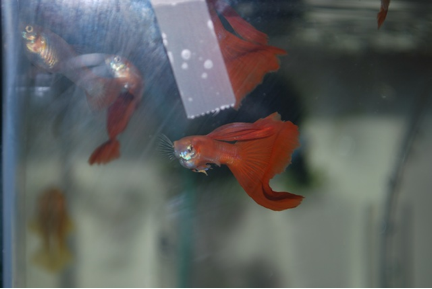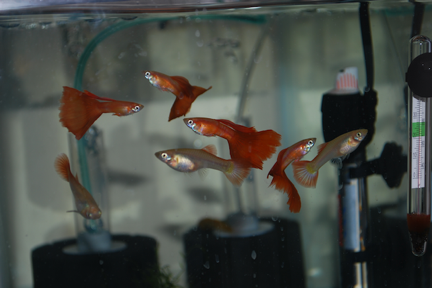 It is 2013 now, 6 years since I joined SJGG, along the way I have met very wonderful people, made lots of friends and have sent fish to IFGA shows and moved on to breed new colors, more importantly it has been an amazing experience to breed these little fish and watch them swimming in the tanks...
I have finished novice 4th place in 2010, novice 3rd and 4thplace HBAOC in 2012
I would like to write my later experiences and different color strains I have worked with in future…
Raj Seshagiri
South Jersey Guppy Group
Breeding IFGA Guppies Since 2007
Raj Seshagiri
---