SOUTH JERSEY GUPPY GROUP
GUPPY ARCHIVES
---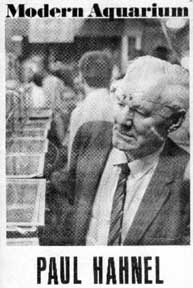 THE GUPPY KING - PAUL HAHNEL
HOBBY BUILDERS
Readers of MODERN AQUARIUM know that we have been printing a series about hobbyists who have made out- standing contributions to the growth of the aquarium hobby. All the previous personalities were interviewed in person, as they are all still active hobbyists. This "hobby builder" installment is the first to be written post humously, although it didn't start out that way. We had made a date for late last June to visit the renowned "Guppy King" at his home in the Bronx, New York, We were anxious to cite him as a "Hobby Builder" before he moved to San Diego in the California where he planned to retire. The night before our appointment with Paul, Mrs. Hahnel called to say that Paul had not been feeling well and that with the move to the west coast in their plans he felt it was best to go into the hospital for tests. We postponed the date. On July 1st the master guppy breeder passed away of an unexpected heart attack. He was sixty seven years of age.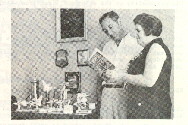 Mrs. Martha Hahnel and GCAS Treasurer, Gene Baiocco, glance
through a copy of a book co-authored by Paul Hahnel

At Paul's wake, this gracious lady said she had not for- gotten the interview Paul had promised us. If we liked, she said, she would be glad to have us visit the Hahnel home and she would answer all questions about his life and aquatic activities. We did visit her there and over coffee and cake she reminisced about Paul's career as an aquarist and told us many little known facts about his early life that shaped his personal qualities. Martha Hahnel brought out a collection of Paul's notes, which he had compiled for use speaking before aquarium clubs. Among them was a step by step outline of the procedures used to breed his world famous guppies. She kindly permitted us to photograph these notes. She told us about his travels around the aquarium world, preaching the gospel of his beloved guppies. "he made the guppy hobby," she said. We talked about Paul's opinions on politics, religion, money and his sentiments about other aquarists. She told us about how she shared his hobby. "Paul didn't tell me about his fish before we were married. Afterward I found myself sleeping in a bedroom with 14 fish tanks!" The conversation went on, and it became apparent that we could not do justice to Paul's career in one short article. We asked Martha Hahnel if she would help us write a detailed account of Paul, his guppies and his life. She said she would and it will appear in the coming issues of MODERN AQUARIUM. We will publish his notes, in his own handwriting, and the entire story of his sensational reign as the "Guppy King," with all the insights of the person who knew him best, Martha Hahnel. Friends of the Hahnels will be pleased to learn that Martha is planning to continue raising some guppies, just as she did for so many years with Paul. She also said she intends to continue to be active in the hobby, visiting clubs and encouraging guppy breeding according to Paul's methods. I suppose all who knew him have some treasured personal memories about Paul. I'd just like to mention a few of my own. When the GCAS decided to reactivate its magazine, MODERN AQUARIUM, we got out a sort of trial issue. In it was a story I wrote about Paul, and it teased a bit about his reputation for never telling "everything" about his guppies. I gave him a copy of the story and waited uneasily as he read it. Those who knew Paul will remember that there was rarely any middle ground with him. Either he liked something or he didn't. I wasn't sure just how he would react to the article and was relieved when he finished reading it. He liked it and said so. Then he talked on about the problems of publishing an aquarium club bulletin. He gave me a lot of advice..... all of it good. Every time we met after that, he would comment on the latest issue of our magazine, and ask how it was going. He really kept up with everything that went on in this hobby and was sincerely interested in our progress. On May 18, 1969, Paul was at the GCAS Annual Show. I spotted him sitting alone in a corner of the room and he seemed lost in thought. I sat down next to him and we chatted. He was in an expansive sort of mood and I though it might be the right time to get some exclusive item from him that would make a good story for MODERN AQUARIUM. I asked him if he had any advice for a young aquarist, just starting out in the hobby. "Yes," he said, he did. I was sure I would get some previously undisclosed secret of Paul's success as he leaned forward to whisper in my ear. "I would advise him never to grow old!". With the blue eyes twinkling, he rose and walked over to the display of guppies that were competing in the show, where Ray Juschkus snapped the photo that appears on the cover of this magazine(which appears at the top of this article). Like a thousand hobbyists before me, I had been "Hahnelled" by the old master. It is a particularly treasured memory because only six short weeks later all aquarium hobbyists had lost a great friend and a truly magnificent Hobby Builder, Paul Hahnel. Reprinted from MODERN AQUARIUM October 1969, by Dan Carson GCAS(Greater City Aquarium Soc.) ** As a youngster I grew up in the Bronx, one day I traveled up to Paul's house looking to purchase some fancy guppies, Two men were standing in front of Paul's house, as I asked "I'm looking for Paul Hahnel", the taller of the two men said I'm Paul, can I help you. I said that I would like to buy some of your fancy guppies, Paul invited me in his home and guided me over to some of his tanks I was totally amazed at how beautiful his guppies were, the photos in books did his fish no justice at all..... He told me that I'm not going to sell you any fish... at that particular moment my heart dropped to the floor.... then he responded, I won't sell you any fish, but I will give you some, take this fish net and take some fish and place them in this gallon mayonnaise jar.. I was on cloud nine ..... I went over to the twenty-nine gallon tank and took two magnificent males and two females. I immediately thanked him, Paul took the gallon jar from me and took a net and scooped out another ten fish and placed them in the jar as well. I'll never forget this man as he showed total generosity to a total stranger ..... That's the beauty of this hobby...........
PAUL the GUPPY STILL LIVES
**Frank Schulterbrandt 02/97
---